To get this column ad-free and straight to your inbox, subscribe now to get THREE MONTHS FREE + daily transfer round-ups and exclusive columns from the biggest journalists in football!
Aubameyang was a 'band aid' signing for Chelsea, and the MLS could be next
It has been a really tough 12 months for Pierre-Emerick Aubameyang. This time last year he was unveiled as a new Barcelona player and he really only left the Camp Nou because ex-Chelsea boss Thomas Tuchel came calling. Xavi wanted to keep him, but Aubameyang was convinced he'd get game time and goals at Stamford Bridge.
Sadly, it just hasn't worked out. Just before Aubameyang's move he was attacked in his home in a horrific robbery, so arrived at Chelsea with a broken jaw. Then shortly after joining Tuchel was sacked. Aubameyang just hasn't settled and has scored only one Premier League goal.
It's pretty obvious he'll leave this summer, and could theoretically go before if a deal is agreed with an MLS club. This is because although he can only represent two clubs in one season, MLS' new 2023 season begins in February. Aubameyang has been linked with Los Angeles FC, but there is nothing advanced to date and I understand Aubameyang would ideally prefer to stay in Europe. It's one to watch whether a club in America can change his mind.
Aubameyang knows he's out of the picture at Chelsea. This was shown by his exclusion from the Champions League squad and omission from the matchday squad for the 0-0 draw with Fulham.
In stark contrast, Hakim Ziyech, who was minutes away from joining PSG on Deadline Day – and only didn't due to paperwork being sent late – made the 25-man list for the UCL and started against Fulham. It felt like Graham Potter wanted to show Ziyech he was still valued. It will be interesting to now see if Aubameyang is given a role against West Ham and a chance to prove himself. But Potter can't keep rotating to give individuals chances. With key players returning from injury and a host of new signings, he has to start picking a more consistent starting XI.
The truth is Aubameyang was a very 'un-Chelsea-like' signing when you consider their current project. The owners, and new recruitment team, have clearly learnt a lot and adapted from a frantic summer.
January shows the long-term strategy in play, which in the most basic terms is to invest in youth on long-term contracts and view transfer fees as investments not expenses. Aubameyang doesn't fit that strategy. He was more of a 'band aid' signing given Romelu Lukaku had been loaned to Inter and even Armando Broja's future wasn't entirely clear when he arrived.
I don't think there's been some big fall out. Nor is it fair to allege Aubameyang has an attitude problem. It's just been hard for him. Yet every time I see Aubameyang train, he's smiling. It's now a test of Potter's man and squad management.
One final point worth noting: Barcelona couldn't re-sign Aubameyang in January. Had they been able to get him on free, there might well have been an appetite, but rules prevented him being re-registered even though he would have only played for two clubs this season. So for now, presuming he wants to stay in Europe, Aubameyang is stuck at Chelsea and is firmly down the pecking order.
Jorginho deal doesn't change Arsenal's big plans for a summer midfielder signing
Arsenal will definitely add another central midfielder this summer. The arrival of Jorginho in January from Chelsea doesn't change that. That move is more one for the relatively short-term. Mikel Arteta views Jorginho as a strong fit and a player who can add depth with Mohamed Elneny injured.
The Jorginho transfer also came about because Arsenal realised they couldn't land Brighton's Moises Caicedo following two rejected bids. Arsenal are notorious for being methodical and disciplined with their negotiations. They didn't want to go above their £70m offer for Caicedo and risk damaging their relationship with Brighton if a deal was simply not possible – and it wasn't so late in the window.
It's smart in many ways because placing a third bid, and effectively doing so 'blindly', would have irked Brighton, who directly told Arsenal to stop wasting their time. And more damningly, it would have provided a new and even higher yardstick for Caicedo's summer valuation.
Arsenal could be back for Caicedo, but not necessarily at the same price. There are a lot of midfielders available this summer and that might actually mean Caicedo's value drops. It will all depend on demand. Chelsea, who also had a failed bid in January, could also return.
Arsenal's midfield priority will be Declan Rice and West Ham are resigned to losing him. David Moyes, as you'd expect, has been quick to argue if Rice leaves it should be for a British-record transfer fee. But suitors are hoping for a fee of £70-80m. This is ultimately because Rice's contract expires in summer 2024.
But Chelsea's big-spending could inflate the market and thus Rice's price. You can understand why selling clubs, especially for top-tier central midfielders, will point to Enzo Fernandez's £107m fee and ask for something similar.
I still think Rice will go for cheaper than that, but how much so will depend on whether West Ham get a bit of a bidding war. Chelsea also really want Rice. Manchester United and Newcastle United can't be ruled out either, although I understand Rice's preference is to stay in London. That won't be a deal-breaker, but Arsenal and Chelsea can certainly use it to their advantage.
Rice also wants Champions League football. Whether or not that means instantly remains to be seen, but Arsenal can clearly use this to their advantage given where they are heading. Rice has also spoken glowingly about Arteta. So it's probably fair to term Arsenal the favourites right now, but as we saw with their pursuit of Mykhaylo Mudryk that doesn't always mean a huge deal this far out. If Chelsea offer big or above market value money, Arsenal would have to go against their transfer-market principles.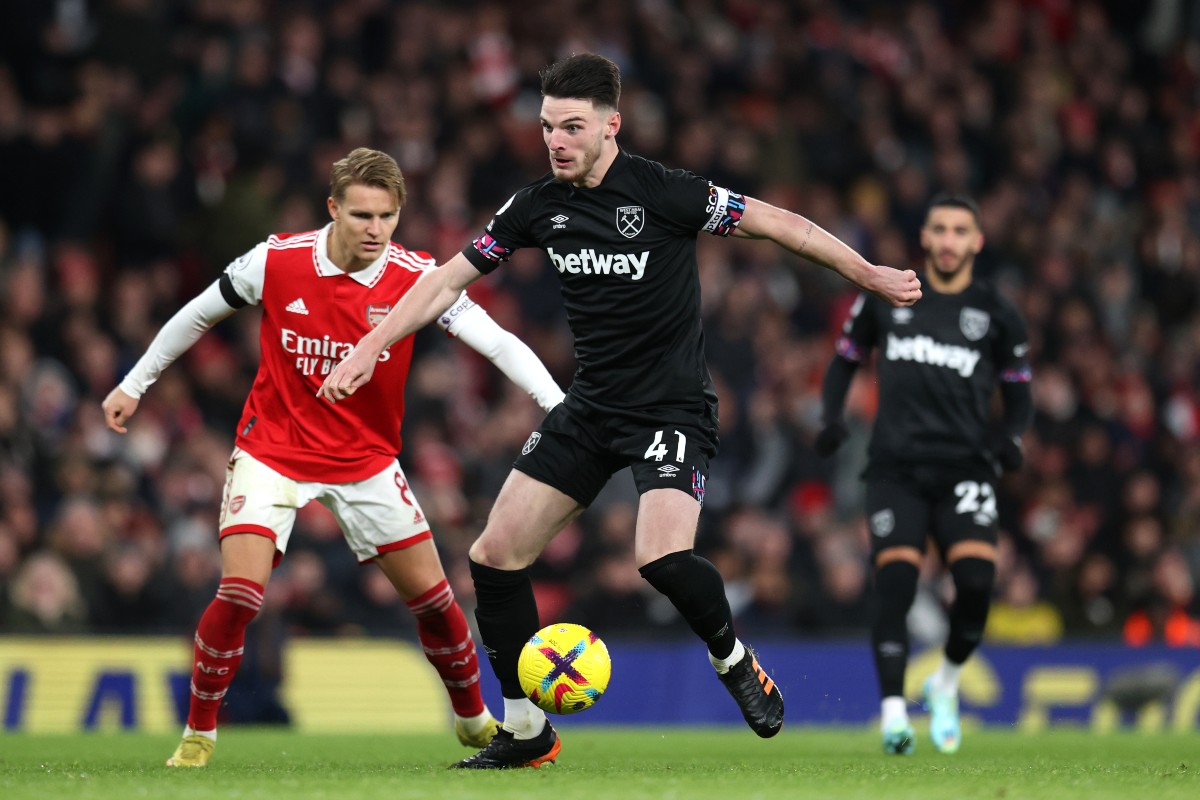 Youri Tielemans is also expected to leave Leicester this summer on a free transfer, barring a U-turn on signing a new deal. Leicester would love to keep him, but Tielemans has been clear for over a year he doesn't want to extend.
Arsenal still haven't ruled out signing him on a free transfer. They were reluctant to pay a transfer fee over the past two windows, but now the Belgian midfielder is a bargain. Newcastle also really like Tielemans and Manchester United are one to watch as well.
Real Sociedad midfielder Martin Zubimendi will draw plenty of summer interest, too. He's so calm on the ball and an intelligent defender, who also wins his fair share of aerial duels and second balls. Suitors in January were told to pay Zubimendi's €60m release clause or no deal would be done. And the player himself wasn't really pushing for a move. He only signed a new five-year deal at the club in October. But a transfer is very possible come summer, especially considering Zubimendi wasn't willing to have his release clause raised. That makes him attainable on the market.
Barcelona coach Xavi also admires Zubimendi, though it remains to be seen if the finances are workable to proceed. Keep an eye on Tottenham and Manchester United as well.
And Edson Alvarez is another name who could be on the move this summer. Chelsea came close to signing the Ajax midfielder last summer, but the club refused a move despite Alvarez pushing for it. Todd Boehly did tell Alvarez at the time he'd be back, but never returned. This is understandable given a new recruitment team came in and the club became obsessed with Enzo Fernandez. Plus, Denis Zakaria impressed before his injury and will return to full fitness soon. It will be interesting to see, if Zakaria finishes the season strong, whether Chelsea try to buy him from Juventus.
Arsenal considered Alvarez in January to a degree, but it became quickly clear Ajax didn't want to do mid-season business. Liverpool have looked at Alvarez before and chose not to proceed and Newcastle are another club to have him at least loosely on their radar.